Be creative, live creatively, and don't let anything or anyone stop you!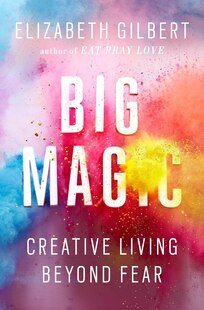 In Big Magic: Creative Living Beyond Fear, Elizabeth Gilbert encourages us to embrace our creativity and let go of any fears we might have about doing so: the fear that it might be a waste of time, or that someone will question why we're doing it, or ridicule us for our creative attempts.
Early in the book she lists all the fears one might have about living a creative life, and somehow, seeing them all listed for a page and a half makes it easier to dismiss them en masse and just get on with being creative.
"A creative life is an amplified life. It's a bigger life, a happier life, an expanded life, and a hell of a lot more interesting life."
Gilbert talks about how "creative living is a path for the brave," and this is what we believe here at The Brave Art Lab.
The book is called Big Magic based on Gilbert's premise that ideas float around, magically independent of people, and that they latch onto a person who is ready to use the idea. It's up to us to be open to ideas and to forge ahead, developing those ideas into something concrete, whether it's a poem or a painting or a photograph or a film. If we aren't open to the idea, it will flit off and find someone else.
Gilbert tells an anecdote about an idea that came to her about a story set in the Amazon, and how, when she didn't follow through with it, the idea latched on to Ann Patchett instead, who went on to write State of Wonder.
You can believe in this philosophy or not. It doesn't really matter to your creativity or to your enjoyment of the book, because the point Gilbert makes throughout is:  just do something creative. Anything. Write, draw, paint, sing, play an instrument, make something, build something, cook something… It's not the 'what' that's important, it's the 'doing.'
Three chapters in particular resonated with me.
My favourite chapter might be "Nobody's Thinking About You," because it's true. Everyone is thinking about themselves. It's a freeing thought that, really, nobody gives a shit about what you're doing, so just do it and enjoy it and forget about other people's opinions. I love this. My own workspace is filled with stuff I've made or written, and none of it is perfect, but all of it makes me happy. My kids might roll their eyes and my husband might think I'm cracked, but whatevs.
I also like her belief that "Done is Better Than Good." Whether it's a novel or a drawing, finish what you started. Pushing through to the end is how you learn, regardless of whether the finished product is crap. The point is that it's finished, and the knowledge that you can actually finish something is hugely empowering. The process improves you, and your next project will be even better because you finished the first one.
Finally, I love the chapter at the end called "Fierce Trust," where Gilbert talks about getting your work out in the world, because that's what The Brave Art Lab is all about. We don't say you have to share your creativity with the world, but sharing it does give your creativity another dimension. It makes you think more deeply about what you're doing, and it sparks a conversation, even if that conversation is only with yourself.
We love the idea of sharing creativity. We love the fact that music and art and photography and craft and writing all make the world a better, more magical, place. We love the inspiration that comes from seeing other people's work, and we love the empowering feeling of seeing our own work out there and saying "Hey! Look what I made!"
Read the book, start creating, and then share it with The Brave Art Lab. Because that's why we're here.