There are hundreds of books on how to write well, and thousands of websites and blogs providing writing advice, and while everyone has something new and different to say on the topic, there are five key pieces of advice they all agree on:
Write. It sounds so simple… The only way to be a writer is to write. Every day. But it's harder than it sounds. Only writing will make you a writer.
Read. Every advice column and writing book agree: want to be a writer? Read. Read everything. Across all genres, good or bad. Reading will make you a better writer.
Shun adjectives. Everybody says this. Endlessly, repetitively, continuously, incessantly. Obviously, you can do what you want, but tread lightly on this one. If everybody says it, arguably, it must be true. Shunning adjectives will possibly make your writing outstandingly good.
Be active. (As in, use the active voice, but a little exercise doesn't hurt either.) Make people do things, don't make things happen to people. Then again, sometimes you don't want Mary kissing John. Sometimes the story demands that John was kissed by Mary, just as long as John and Mary are getting some action at some point. An active writer gets more traction.
Show don't tell! (You knew this one was coming.) I was saving the best for last. People would much rather see it than hear it. Don't tell people you're a writer, show them.
In a post over at whatsinsidethatnut.com I wrote about my five favourite books on writing, and I am re-posting the list here. Of all the books I've read on how to write well, these five stand out not only for the great advice they impart, but for the behind-the-scenes stories they tell along the way.
(Note: the following contains affiliate links.)
Bird by Bird by Anne Lamott. Funny and full of feeling. The chapter called "Shitty First Drafts" particularly resonates. Reading this book is like having a conversation about writing with a good friend – she's saying what you're feeling but articulating it in ways you never could, and making you better in the process.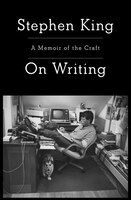 On Writing by Stephen King. Autobiography and advice. This is a memoir and a manual for how to write well. Even if you've never read a Stephen King novel (and I hadn't until I read On Writing, but now I have and you should too) this book is definitely worth reading for both the writing tips and the insight into the writing life.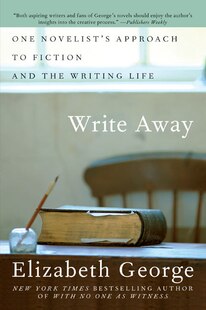 Write Away by Elizabeth George. I picked up this one when I was hooked on George's Inspector Lynley books. While she does give writing examples from her own work to illuminate her advice, she also brings in excerpts from tons of other writers. It's the ultimate "show, don't tell" approach to how to write well.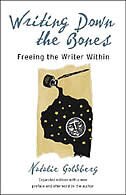 Writing Down the Bones by Natalie Goldberg. The classic book on writing. I love her Zen approach to using writing to sort yourself out: "Trust in what you love, continue to do it, and it will take you where you need to go."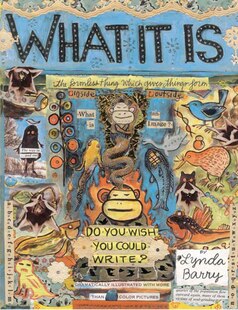 What It Is: The Formless Thing Which Gives Things Form by Lynda Barry. Handwritten memoir and illustrated journal, quirky art book and inspirational writing handbook. There is no way to adequately describe Barry's book. She is a cartoonist and author – you've probably seen "Ernie Pook's Comeek" with her distinctive illustrations – and this book mixes drawing and writing in a way that makes you want to drop everything and pull out your notebook. It might just be my favourite one of all.